Why Business Owners Should Prioritize the Creation of a Disaster Recovery Plan for Their Facility
2/11/2022 (Permalink)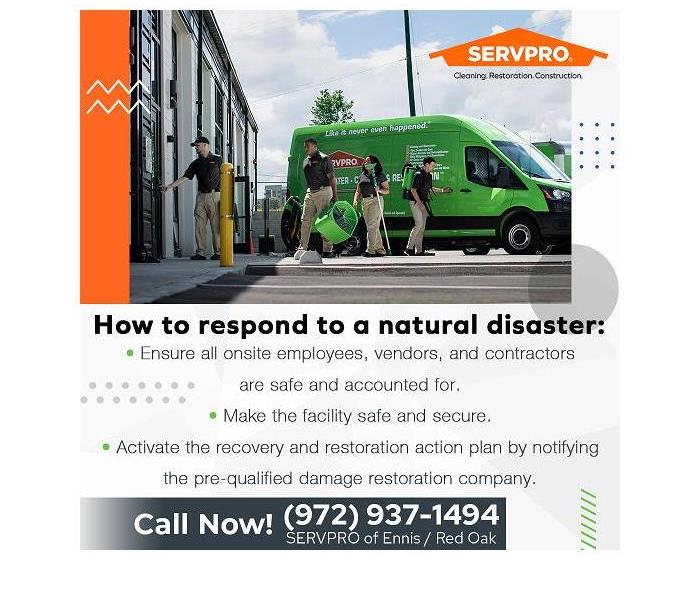 Blog Summary: SERVPRO of Ennis/Red Oak warns businesses of the risks of not having a plan for disaster recovery.
SERVPRO of Ennis/Red Oak is an excellent choice for business owners and property managers when commercial water damage repair is needed. When water is the culprit in a property damage disaster, a rapid response can avoid secondary damage, which can be more costly to repair than the original water damage disaster. Delays in normal business operations can be financially devastating for a business. SERVPRO of Ennis/Red Oak is available 24/7, 365 days a year, and arrives at the facility in about an hour to begin assessing the situation and mitigating the water intrusion.
One of the most important strategies a business can have in place is a disaster readiness plan. A Ready Plan, as it is referred to by SERVPRO, is crucial for a safe, swift, and successful return to normal business operations in the wake of a property damage disaster.
A property damage disaster resulting from a fire, tornado, or hurricane can wreck a small business. Closures may last for months. Most small businesses are without a disaster recovery plan, and insurance coverage protecting against a financial catastrophe from a natural disaster is not in place.
Insureon, in partnership with Manta, an online small business directory, conducted a poll. The poll revealed that "31% of small business owners don't know if their business would survive if it was forced to close for more than a month. An additional 13% say they are confident it wouldn't. Despite that uncertainty of survival, 61% of small business owners say they don't have a formal disaster recovery plan."
How to plan for a disaster
The poll mentioned above found that one in ten surveyed business owners experienced a closure after a natural disaster. One in five of these closures were unable to reopen. A disaster recovery plan improves a business' ability to successfully recover from a natural disaster. A disaster recovery plan should include the following components:
1. A list of critical employees
This list should include essential information about key employees and details about their functions during the disaster response and recovery process. Contact information for the landlord, utility companies, and key vendors should be an element of this part of the plan.
2. A pre-qualified property damage restoration company
In the event of property damage, a rapid response by a reputable damage restoration company that has a proven track record of dealing with commercial venues can expedite the recovery process while reducing unnecessary restoration costs from secondary damage such as mold and wood rot.
3. A risk hazard analysis
Identify and assess any risks. Each risk analysis should be accompanied by response strategies and recovery solutions.
4. Documentation of business continuity protocols
This component is an outline of critical business operations, including documents, procedures, programs, and resources. An example would be processing payroll, payables, and receivables. During the pandemic, many of these activities were outsourced to third parties or fulfilled by employees working remotely.
5. Data preservation strategies
Ensure that all information essential for operational continuity is backed up on a daily basis. The backup location should be off-site or in the cloud.
How to respond to a natural disaster
Ensure all onsite employees, vendors, and contractors are safe and accounted for. If a natural disaster impacts physical operations, the top priority is to ensure everyone is safe.
Make the facility safe and secure. Cordon off unsafe areas, and contain employee movement to safe areas. Shut off the power, water, and gas utilities where needed. Execute other safety measures as laid out in the disaster recovery plan.
Activate the recovery and restoration action plan by notifying the pre-qualified damage restoration company. A crew from SERVPRO of Ennis/Red Oak will arrive on the scene typically within an hour. A specially trained technician will inspect and assess the situation. A detailed industry-standard estimate with documentation, including photos and video, will be provided. SERVPRO can handle the insurance claims process from beginning to end.
The crews will mitigate the water intrusion, including emergency tarping. They can also secure the facility with board-ups of windows and doors and the installation of emergency fencing. Water removal can begin immediately using high-powered commercial-grade equipment. Employees are freed up to address operational and administrative issues. Also, the risks and liabilities of enlisting untrained and ill-equipped employees to handle property damage restoration are very high. A slip-and-fall injury can be terminal for a business already struggling to survive a natural disaster or other property damage disaster.
To learn more about commercial water damage cleanup and restoration services in Ennis, TX, contact SERVPRO of Ennis/Red Oak office by calling (972) 937-1494 or emailing acarey@SERVPRO10932.com