How SERVPRO of Ennis/Red Oak Provides Water Damage Restoration for Commercial Facilities
12/17/2020 (Permalink)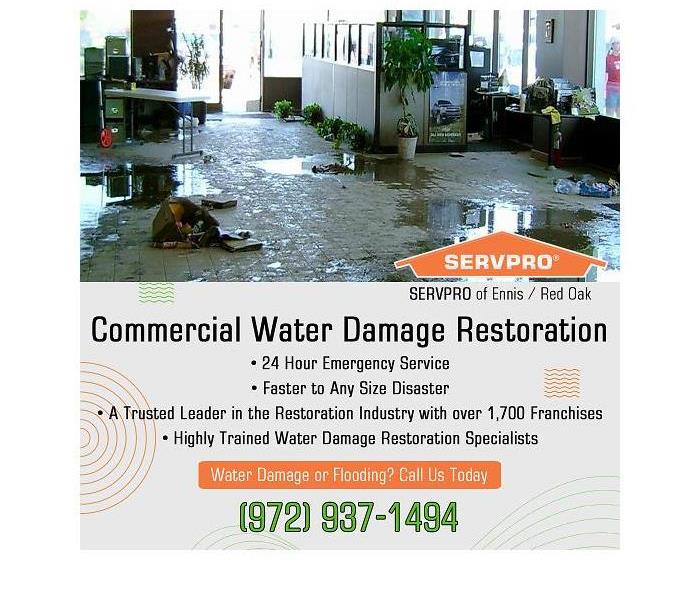 Blog Summary: SERVPRO of Ennis/Red Oak is the right choice for a facility that has suffered water damage. SERVPRO can leverage industrial-strength resources to restore an industrial-sized disaster.
SERVPRO of Ennis/Red Oak is the best choice for operations managers and corporate disaster recovery teams when water damage sidelines a manufacturing unit that provides critical supply chain parts, chemicals, services, or data. An industrial-sized disaster requires an industrial-strength response. SERVPRO of Ennis/Red Oak can leverage the needed response that can bring a production facility, distribution center, call center, or data management complex online and up and running in hours, not days. The production line, supply network, or information grid need not grind to a halt when a vital cog goes offline or dark.
Commercial Water Damage Restoration: Four Factors to Consider
When it comes to a commercial property damage situation, the SERVPRO team of professional technicians minimizes the disruption to a business while delivering superior results. In any business, industry, or service sector, results matter. Decision-makers need to consider four critical factors when determining who to call when a commercial property damage disaster occurs.
The knowledge and expertise to handle any commercial property damage restoration
The restoration crew should be able to provide services for a variety of different facilities, whether the project involves a manufacturing unit, retail store, call center, apartment complex, restaurant, or daycare.
24/7 availability and a quick response
The SERVPRO facility in Ennis is within thirty minutes of most of its clients. In one hour or less, a service team can be onsite to inspect the site, assess the damage, and begin the cleanup and restoration process.
The necessary equipment on hand to begin the restoration process
Time is money. Delays in the restoration and recovery process while waiting for a needed piece of equipment to arrive can dramatically increase secondary costs to the damaged business. Property managers, operations managers, and disaster response teams need to know that the property damage restoration company can step up to any challenge. Every hour of delay can cost a business thousands of dollars in labor costs and lost production profits. The restoration expense may be a fraction of overall losses from a commercial property damage disaster.
The ability to leverage industrial-sized resources
Facility disaster response managers need to know that the restoration company they have chosen to address property damage restoration needs can scale quickly to meet any size incident. SERVPRO of Ennis/Red Oak is a restoration force multiplier that can scale to meet any size commercial disaster. The knowledgeable and experienced restoration specialists can be mobilized and on their way to the site in minutes.
No business is too small for SERVPRO of Ennis/Red Oak to serve. The economic impact of the damage is not necessarily measured in square feet. A disaster at an IT management facility, a call center, or a logistics terminal can slow down or shut down dozens of businesses or ancillary supply chain units. A small fire that set off the sprinkler system at the corporate office can send international shock waves throughout the company.
Plan Ahead With an ERP: Emergency Ready Plan
An actionable readiness plan is a pivotal factor in successfully overcoming a commercial property damage disaster. The SERVPRO Emergency Ready Plan (ERP) sets the industry standard for commercial disaster preparedness. The COE and onsite operations managers who are tasked with having a crisis readiness plan in place and actionable can look to SERVPRO of Ennis/Red Oak to formulate a proactive, responsive, and effective disaster response that will have the business up and running as soon as possible. Shaving minutes off of the response and recovery time converts to minimized losses and maximized ROI.
SERVPRO of Ennis/Red Oak has the training and expertise to address any size business or type of commercial venue, including:
Small office buildings
Large office/High-rise office buildings
Apartment buildings
Restaurants
Hotel/Motels
Small retail stores
Large retail/Big-box stores
High-rise residential
Manufacturing and industrial
Government/Military
The company's services include:
Commercial water damage restoration
Commercial fire damage restoration
Commercial mold remediation
Commercial storm damage cleanup
Disaster recovery team
For more information about water damage restoration in Ennis, TX, contact the team of professionals at SERVPRO of Ennis/Red Oak by phone at (972) 937-1494. The company can also be reached by email at acarey@SERVPRO10932.com.