Fireplace Safety Tips to Keep the Fireplace a Safe Place and Avoid Fire Damage and Other Hazards
1/3/2021 (Permalink)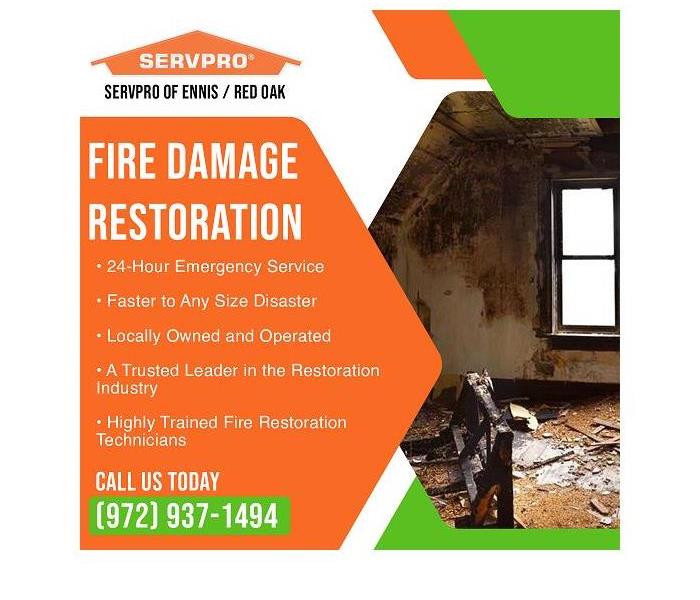 Blog Summary: SERVPRO of Ennis/Red Oak, a damage restoration company, shares fireplace safety tips for local homeowners.
SERVPRO of Ennis/Red Oak is the best choice for fire damage restoration in the local area. When a fire disaster strikes, life is disrupted and filled with anxiety and stress. The team of property damage restoration specialists strives to serve the community by reducing the turmoil in the aftermath of a disaster. Ennis and Red Oak residents can count on the caring professionals at SERVPRO of Ennis/Red Oak to quickly restore homes that have suffered fire damage, water damage, or smoke damage.
Fireplace Safety Tips
The luxurious warmth of glowing flames and a steaming cup of rich hot cocoa create a cozy winter ambiance that extends well beyond the holidays. Every winter, homeowners in Ennis, Red Oak, and the surrounding area rely upon their fireplaces, gas logs, and woodburning stoves for supplemental heating for their homes and other living and working spaces. Yet, there exists a risk of accidental fire from flaming embers, creosote residue, and temperatures that rise at times above 1,000 degrees Fahrenheit. To greatly reduce the risk of accidental fire, follow the fireplace safety tips listed below.
Tip #1: Have a certified, professional chimney sweep inspect and clean the chimney annually.
If the fireplace or wood-burning stove has not been used in a while, a chimney inspection to determine creosote levels, assess structural integrity, and remove any blockages from debris ensures the safety and health of the home and family.
Creosote buildup can ignite under high temperatures and when exposed to burning embers. Damage to the chimney can prevent proper airflow and allow hot embers and dangerous smoke and soot to blow back into the home. Animal nests can not only restrict airflow but they can also ignite and potentially cause serious fire damage. Homeowners who rely heavily upon their fireplace or wood stove to heat their homes should consider having an additional inspection and chimney cleaning after burning three chords of wood.
Tip #2: Practice safe fire building techniques.
Before starting a fire, fully open the fireplace damper. Restricted airflow can cause smoke, toxic soot, and carbon monoxide to flow into the home and create serious health effects. Also, be careful when choosing the type of wood to burn in the fireplace or woodstove. Use seasoned hardwoods, which burn more efficiently and produce less smoke and creosote.
Tip #3: Keep the fireplace and nearby area clean and safe.
Debris and clutter, such as extra firewood, newspaper, and kindling, are combustible and should be stored far away from the fireplace. An unnoticed burning ember can light on cured wood, dry newspaper, or kindling and ignite the flammable material.
Keeping fireplace ash to a minimum will increase airflow through the chimney, which will cause the wood to burn more efficiently. Clean out the fireplace frequently. Make sure the fire is completely out and there are no lingering embers. Dispose of the ash properly. Never put the ash in a garbage can just in case there are some remaining hot embers. Avoid allowing ash to accumulate more than one inch in the fireplace.
Use a fireplace screen to prevent hot embers, sparks, and ash from popping out of the fireplace and onto the floor or carpeting and causing a fire. Aerosol cans, stain remover, nail polish, alcohol, and other flammable liquids should be safely stored away from the heat of the fireplace. The dangerous, flammable fumes from these products can ignite, causing a flash fire.
Tip #4: Reduce the risk of a roof fire.
Have a certified chimney solutions provider install a chimney cap with a spark arrestor. This application not only helps prevent roof fires but also reduces the risk of wildfires.
Tip #5: Childproof the fireplace.
To prevent fire-related injuries, children should always be supervised when the fireplace or wood stove is in use. The fireplace glass door should be kept closed. If young children are in the home, install a hearth gate around the fireplace. Teach children proper fireplace safety from the earliest age. Children should know that fires are very hot and can cause serious burns or death. Teaching children to maintain a safe distance from the wood stove or fireplace can prevent serious burns and save their lives.
Tip #6: Never leave a fireplace, wood stove, or gas logs unattended.
Fire safety experts warn that homeowners should never leave a burning fireplace unattended. If the fire is not properly supervised, a chimney fire can flare up and spread very quickly. Before going to bed or leaving the house, the homeowner should make sure that the fire has been completely extinguished. Keep the damper partially open until the fire is totally extinguished and absolutely safe.
Tip #7: Install a smoke detector and a carbon monoxide detector on each level of the home.
Test and replace batteries at least twice a year. New Year's Day (January 1st) and Independence Day (July 4th) are great days to practice this home fire safety action. It can take less than two minutes for a small fire to get out of control. Keep a fire extinguisher in one or more accessible locations. In case of a fire, stay calm. Focus on getting everyone out of the home and a safe distance away. Call 9-1-1.
SERVPRO of Ennis/Red Oak has been serving the community since 2000. Centrally located in Ellis County, the property damage response team can reach any destination in the area in under thirty minutes. The staff receives continuous, rigorous training in property damage cleanup and restoration.
For more information about fire damage restoration in Ennis, TX, contact the SERVPRO of Ennis/Red Oak office by phone at (972) 937-1494 or by email at acarey@SERVPRO10932.com.