How Damage Restoration Technicians with a Solid Work Ethic Benefit the Customer
12/21/2021 (Permalink)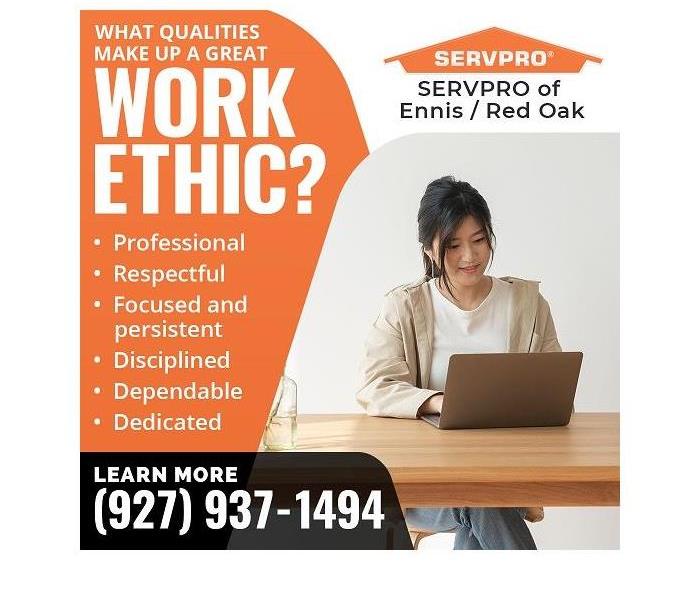 Blog Summary: SERVPRO of Ennis/Red Oak highlights the importance of an excellent work ethic in the context of the damage restoration industry.
At SERVPRO of Ennis/Red Oak, water damage restoration crews are available 24/7, 365 days a year, including holidays. The latest equipment and state-of-the-art technology ensure the water removal and structural drying meet and exceed industry standards. Advanced cleaning techniques along with EPA-approved cleaning products enable technicians to thoroughly clean, disinfect, sanitize, and deodorize disaster sites contaminated with smoke, soot, mold, mildew, and sewage.
Each restoration professional receives extensive training and certification in areas such as fire and smoke damage, water and flood damage, mold remediation, and commercial cleaning. Crews are skilled in operating the many pieces of equipment utilized in the property damage restoration process. Personal safety, the safety of the customer and their family (including pets), and the protection and preservation of personal belongings are top priorities for each crew member. Safety-conscious technicians wear PPG when needed. The SERVPRO team follows safety guidelines and protocols. All these factors and one more add up to make SERVPRO of Ennis/Red Oak an excellent choice for property damage cleanup and restoration. That last critical element involved in the making of an exceptional SERVPRO restoration professional is their work ethic.
What Qualities Make Up a Great Work Ethic?
Entrepreneur Magazine and other business experts have identified key elements of a strong work ethic. These elements are important for a client or customer to consider when hiring a damage restoration professional. These elements include professionalism, respect, dependability, dedication, determination, high standards for personal conduct and job performance, passion for the job and the people served, and a well-balanced life.
Professional
This foundational quality encompasses everything from dress (appearance), decorum (how clients, fellow technicians, and other vendors are treated), and demeanor (attitude) to the skilled performance of the cleaning and restoration process.
Respectful
A property damage disaster involves stress, anxiety, and frustration. SERVPRO professionals are known for displaying grace under pressure, and they will remain poised, focused, and diplomatic when deadlines are tight and emotions are tense. Clients who have experienced a tragic house fire or devastating flood receive courtesy, empathy, and patience from every member of the SERVPRO damage restoration team.
Focused and persistent
Some aspects of the residential and commercial fire and smoke damage cleanup process are tedious and require focused attention to detail. Every square inch of the affected area must be wiped down and treated to ensure toxic soot and ash have been removed. The technician must demonstrate a disciplined and thorough persistence when cleaning the customer's fire- and smoke-damaged structures, furniture, and personal belongings. The ability to focus eliminates errors and increases efficiency.
Disciplined
A property damaged by fire, smoke, sewage, or water is a dangerous environment. Technicians must be diligent in following safety protocols, and they must not cut corners. The wearing of personal protective gear (PPG) such as a respirator, hard hat, gloves, goggles, boots, and a hazmat suit on a hot, muggy Texas summer afternoon is uncomfortable and requires personal sacrifice and discipline to get the job done.
Dependable
Clients can depend on SERVPRO of Ennis/Red Oak to be available 24/7, 365 days a year. Their reputation for reliability precedes them because they faithfully and consistently keep their commitments. The crew arrives on the scene in thirty minutes or less, fully prepared to inspect and assess the situation, present a detailed and documented estimate, and begin the cleanup and restoration process.
Dedicated
SERVPRO professionals complete the job the right way. "Good enough" is not good enough for technicians who embrace the weighty responsibility that anything less than their best compromises safety and puts families, employees, or business clientele at risk. Accepting anything less than excellence is unacceptable for the SERVPRO team.
How SERVPRO's Technicians Exhibit a Great Work Ethic
The following review highlights the work ethic the SERVPRO of Ennis/Red Oak team exemplifies when providing water damage cleanup and restoration services. The satisfied customer wrote, "I would definitely recommend SERVPRO. Our place flooded just a few days ago, and Cody has been wonderful! Great work ethic, clean, kind, respectful and he goes the extra mile for sure! I'm very impressed. I feel completely comfortable with Addison, Cody, and Jeffrey in my home with my son and me. Cody has made this horrible and stressful event so much better and easier to deal with. Thanks again for all your hard work Cody!"
For more information about the Corsicana, TX, water damage restoration company, call SERVPRO of Ennis/Red Oak at (972) 937-1494 or email the team at acarey@SERVPRO10932.com