Septic System Maintenance Strategies to Prevent Expensive Repairs
4/6/2022 (Permalink)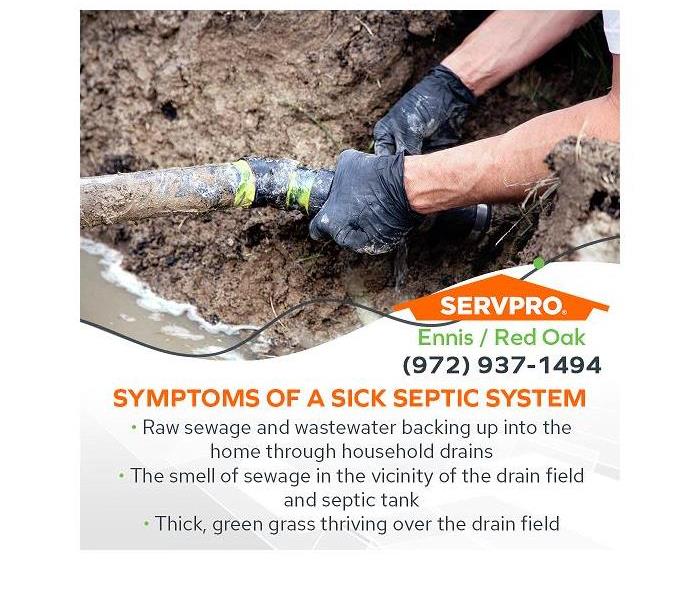 Blog Summary: SERVPRO of Ennis/Red Oak advises homeowners on ways to avoid expensive sewage damage that requires repair and restoration services.
SERVPRO of Ennis/Red Oak is the customer's choice for sewage cleanup and water damage restoration services for property damaged by a sewage backup. Available 24/7, 365 days a year, the team can respond in about an hour. The detailed and documented estimate is helpful for insurance claims. Knowledgeable, experienced, and certified professionals arrive on the scene prepared to tackle the challenges presented by a messy, unwanted sewage spill.
How to Avoid Expensive Sewage System Repairs
Proper septic system maintenance benefits the environment and saves Corsicana, TX, homeowners money. A well-performing septic system helps preserve the purity of the local and regional water supply. Repair or replacement costs for a septic system may range from several thousand dollars to $10,000 or more. On the other hand, recommended maintenance may cost several hundred dollars to $500 every three to four years.
How a Septic System Functions
An inground septic system consists of two components: a septic tank and a drain field. The main drainpipe deposits wastewater from the home into the septic tank, where the solids, greases, and oils separate out. Only the liquid wastewater is able to make its way into the drain field. In the drain field, the wastewater percolates into the soil, and viruses, bacteria, and nutrients are naturally removed from the wastewater.
How to Spot a Sick Septic System
When the septic drain field becomes supersaturated with liquids, sewage will seep to the surface or backup into the home through the toilets, shower, tub, and sinks. The following symptoms of a sick septic system should prompt a call to a licensed, bonded, and insured septic tank professional:
Raw sewage and wastewater backing up into the home through household drains
The smell of sewage in the vicinity of the drain field and septic tank
Thick, green grass thriving over the drain field
Tips to Maintain a Healthy, Safe Septic System
#1: Conserve water.
Reduce the workload on the septic system by cutting consumption. Avoid washing clothes, using the dishwasher, and showering on the same day to prevent overloading the septic system. However, conservation may not simply involve using less water. It may mean wasting less water by rapidly repairing leaks when they appear.
In addition, water-efficient fixtures provide adequate flow and pressure while reducing the amount of water usage. The efficiency of a low-flow showerhead is impressive. According to HGTV, "Simply stated, a new low-flow showerhead will pay for itself several times over in its first year of use alone. Applying the data above, let's say as an individual you take 25 seven-minute showers each month for 175 total minutes. With a 2.5 gpm showerhead, you'll soak up nearly 440 gallons of water in one month from shower use alone. With a low-flow showerhead, 175 minutes of showering uses just 262 gallons of water. This means you save about 60 percent every month. Translate that to yearly figures, and a 1.5 gpm showerhead uses just over 3,100 gallons of water versus over 5,200 with a 2.5 gpm model. One person and one low-flow showerhead save 2,000 gallons of water every single year."
#2: Avoid flushing "flushables."
Toilet paper and waste are the only items that should be flushed down the toilet. Only toilet paper is engineered to quickly decompose when flushed, and just because a product is described as "flushable" by the manufacturer does not mean the product is healthy for the septic system. Flushable wipes and flushable cat litter can constipate a septic system. Cigarette butts, medications, paper towels, and standard cat litter can make for a sick septic system.
#3: A toilet is not a toxic waste dump.
Toxins such as solvents, oil-based paints, household cleaners, medications, latex paint, and chemical drain openers can kill the beneficial bacteria that keep the septic system happy and healthy. Dispose of the garbage disposal. Putting food scraps, oils, fats, and greases down the drain can gum up the works.
#4: Protect the drain field.
Roots from shrubs and trees can block or severely damage a drain field, and vehicle traffic and heavy equipment can also cause damage. Divert water from sump pumps, roof drains, and other rainwater drainage systems away from the drain field area.
#5: Scheduled maintenance will keep the septic system healthy and flowing.
Every three years, schedule an inspection by a qualified septic system professional. Keep an eye on older systems. If the system is more than 15 years old, it may need to be replaced. If the weather has been unseasonably wet and if a large number of houseguests are expected, proactive sewage system pumping might prevent an embarrassing and inconvenient sewage backup. Seek professional advice before using septic tank cleaners and additives.
#6: Leave the mess to the professionals.
If a sewage backup does occur, call the team of professionals at SERVPRO of Ennis/Red Oak for cleanup and restoration. The rapid response within an hour is crucial to prevent advanced secondary damage such as mold. Sewage cleanup requires protective gear, special cleaning techniques, and safe but powerful cleaning products. For great results, enlist the services of SERVPRO of Ennis/Red Oak to clean up the mess and make the home safe again.
To learn more about the water damage restoration company, contact the team at SERVPRO of Ennis/Red Oak by email at acarey@SERVPRO10932.com or by phone at (972) 937-1494.