Nine Tips for Maximizing Hurricane Damage Insurance Claims
5/23/2022 (Permalink)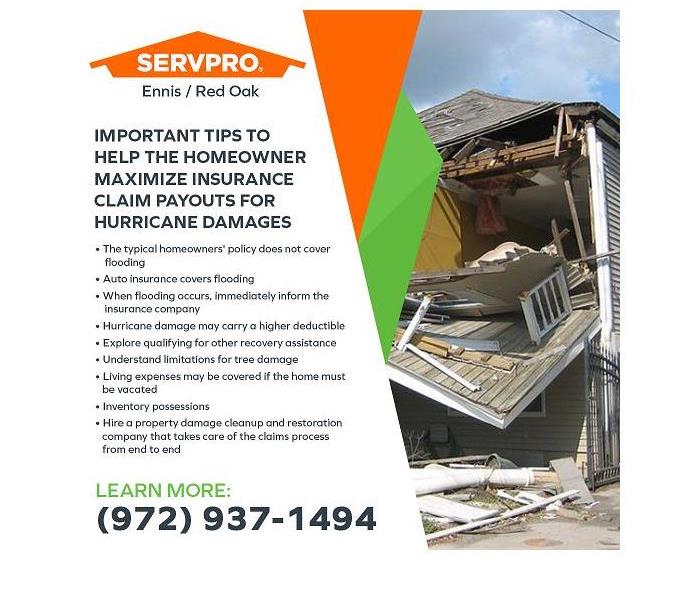 Blog Summary: Hurricane damage can be devastating to homeowners. SERVPRO of Ennis/Red Oak is highlighting tips to help people make the most of insurance claims and recover from storm damage.
SERVPRO of Ennis/Red Oak cautions homeowners that not all water damage disasters are equal in the eyes of the insurance company. If the water damage was caused by a flood, a homeowners policy probably does not cover the disaster. The homeowner needs to be aware of potential insurance issues. Below are nine important tips to help the homeowner maximize insurance claim payouts for hurricane damages and utilize other assistance to cover losses.
The typical homeowner's policy does not cover flooding.
The discovery of this coverage limitation surprises many homeowners, especially when the discovery comes after the home has been flooded. The consequences of this oversight can be financially devastating.
Property damage resulting from water, wind, and wind-driven precipitation entering the home through the roof, doors, windows, or openings in the walls most often falls under homeowners insurance coverage. Property damage caused by flooding from the bottom up is not covered. Some examples of damage that are not covered include:
Rising water overflowing the banks of a river or stream
Overflow from a body of water such as a lake, reservoir, or pond
Storm surge from a hurricane
Auto insurance covers flooding.
Comprehensive coverage would include damages to a vehicle caused by flooding. The insurance company may declare the car a total loss, and the car owner would receive a claim payout less the deductible. Beware of buying a used vehicle just after a major hurricane since the market may be flooded with flood-damaged automobiles. Risk hazards can include electrical issues and faulty airbags.
When flooding occurs, immediately inform the insurance company to begin the claim documentation process.
Emergency tarping and other minor temporary repairs to limit further damage are encouraged. It is not necessary to wait for an adjuster to arrive on the scene to assess the damage.
Record the damage with images and video before making any temporary alterations or repairs. Many digital resources are available to assist the homeowner in the documentation process.
Save any receipts for expenses incurred to carry out these temporary repairs. Reimbursements may be available.
Hurricane damage may carry a higher deductible than water, fire, smoke, or sewage backup damages.
Most standard policies cover wind and wind-driven rain damage. Some insurance companies charge separate wind deductibles. The deductibles are usually 5% to 10% of the coverage amount rather than a flat dollar amount. This deductible can be rather painful for the homeowner.
Explore qualifying for other recovery assistance.
A host of nonprofit and governmental agencies at the state level may offer hurricane disaster relief to homeowners. Check out DisasterAssistance.gov or schedule an in-person appointment at a FEMA disaster recovery center.
Hurricane disaster victims may also qualify for SBA Disaster Loan Assistance. This low-interest loan helps renters and homeowners replace or repair damaged property.
Understand limitations for tree damage.
If a tree falls and damages a neighbor's property, the neighbor can recover some of the damages from their insurance company. If a fallen tree does not do any damage, insurance policies will pay a minimum of $500 to $1,000 for the cleanup and removal.
Living expenses may be covered if the home must be vacated during the restoration and rebuild process.
Living expenses can add up quickly. The insurance company may pay out these expenses before other funds are disbursed, but limits may apply. Rent, food, and utilities may fall within this coverage spectrum. As always, archive receipts digitally or physically for reimbursement purposes. The insurer may offer a debit card for these expenses.
Inventory possessions to ensure adequate reimbursement.
The task of creating an inventory of the contents in the home may prove to be a chore. A current inventory of household possessions will prove beneficial in the event of a disaster. Include images and videos of rooms, closets, and other storage areas. Store the information on the cloud or offsite. The photos and video will serve to validate the inventory. If possible, include images or hard copies of the original receipts for valuable items. Before removing any debris, archive the scene with pictures and video.
Hire a property damage cleanup and restoration company that takes care of the claims process from start to end.
SERVPRO of Ennis/Red Oak inspects and assesses the damage scene and creates a detailed estimate, including images and video. Experienced staff competently provide end-to-end claims management, relieving the customer of anxiety and stress. Attention can be focused on recovery from weathering severe weather or a hurricane.
In fact, by pre-qualifying a water damage restoration company before a disaster strikes, the homeowner needs to make only two calls, one to the insurance company notifying them of the incident and the other to the damage restoration company.
Contact SERVPRO of Ennis/Red Oak for more information about water damage restoration in Corsicana, TX. The office can be reached by calling (972) 937-1494 or by emailing acarey@SERVPRO10932.com